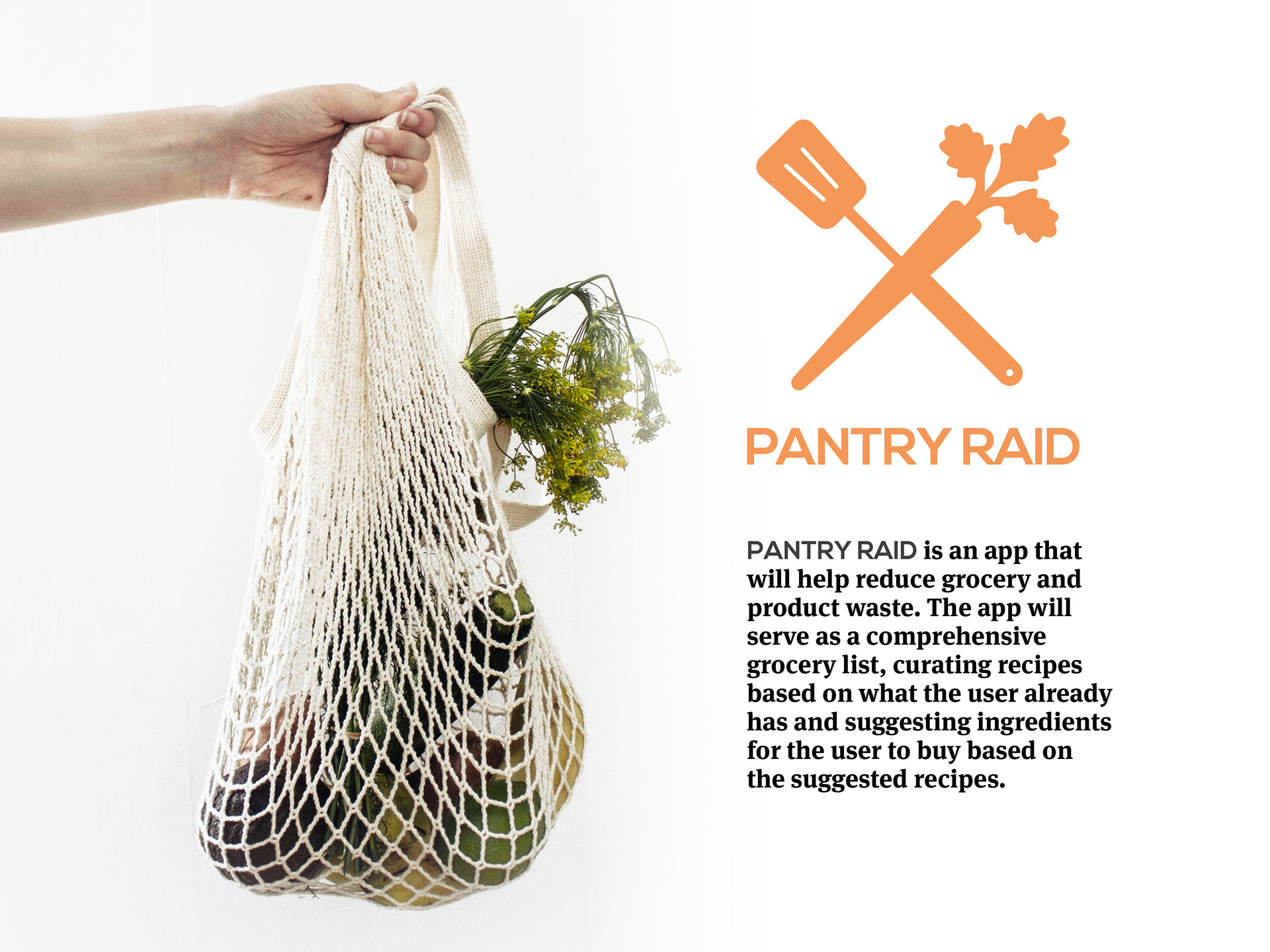 What do we know? 
People waste a lot of money on unused groceries and spend a lot of money eating out instead. 
What do we want to know? 
Are people even interested in cooking still? What would encourage them to cook more? What is the biggest challenge for people who want to cook and eat healthier? What are the biggest motivators to cook rather than eat out? What can we do to encourage users to continue using the app? 
Target Audience 
I hypothesize that the ideal target audience is college students and young adults, probably from the age range of 18 to 36. These are people who are most likely to be living on a tighter budget and less likely to be cooking at home. Groups within this age range include: college students, young working professionals, and new parents. For college students, these users are likely on a budget and have a hard time finding affordable, healthy meals. Young working professionals are likely undergoing the same struggle, having difficulties finding time to plan what meals to cook, if they cook at all. New parents also have to find ways to live healthy lives while saving money where they can. All of these groups have something in common: wanting to maximize their money and eat healthily. 
Interview Process  
Interviewees: 
Samantha Lapid, 25 
Alyssa Mertins, 21 
Chad Marquez, 26 
Savanna Schaffer, 22 
Demographics and Base Questions: 
Demographic Statistics: [Gender, Age Range] 
Tell me about what you do for a living? Are you a student? Working? 
What does your typical weekday look like? 
What do you like to do in your free time? 
How frequently do you use the internet and what are some of the apps and websites you use the most? 
Are you using any apps or other systems to find recipes? 
Context Questions: 
Do you cook? 
How often do you cook? 
If you don't cook often, what stops you from cooking? 
If you do cook, what do you normally cook and why? 
What would motivate you to cook more? 
Do you use recipes to cook? If you do, where do you find them? 
How often do you go grocery shopping? 
Do you make a grocery list? If so, how strictly do you follow it when you go shopping? 
How many groceries do you think you end up throwing away in a month? 
Do you keep track of your groceries? If so, how so? 
How many times a week do you go out for food? 
Approximately how much money do you think you spend on eating out? 
Do you pay attention to your daily caloric intake? 
How healthy would you say your diet is? 
If not so healthy, what would help you have a healthier diet?
Product Specific Questions: 
What is most appealing about this app? 
Why do you think someone would use this app? 
Can you see yourself using this app? 
How would you use this app? 
What's the hardest part of using this app or what would keep someone from using this app? 
Do you find that phone reminders work? Would you be okay receiving them? 
Does this app remind you of other apps? 
What feature would you want to include? Or how can this be a better product? 
Do you have any questions, comments, or observations?
Survey Results
184 people answered the survey.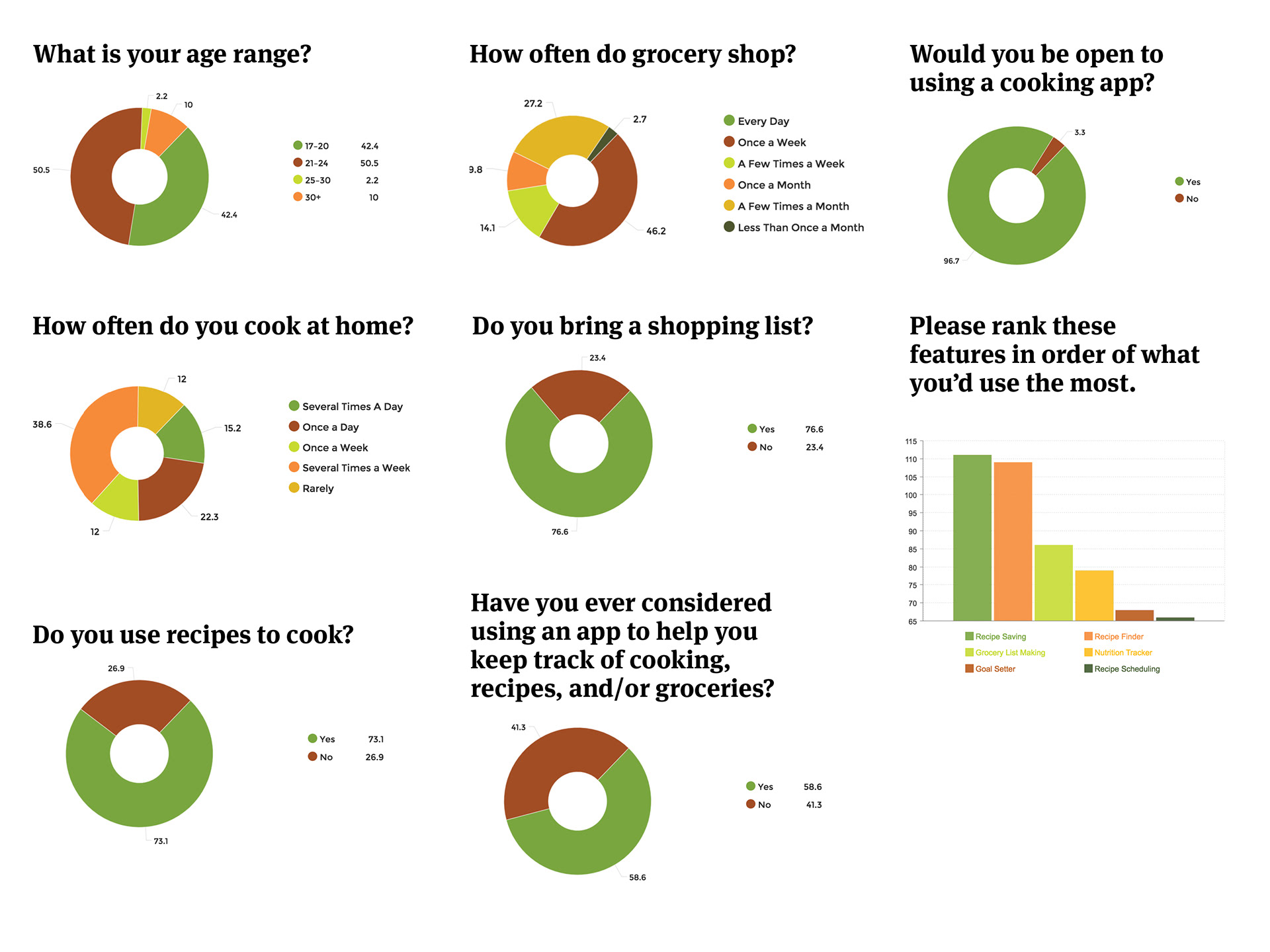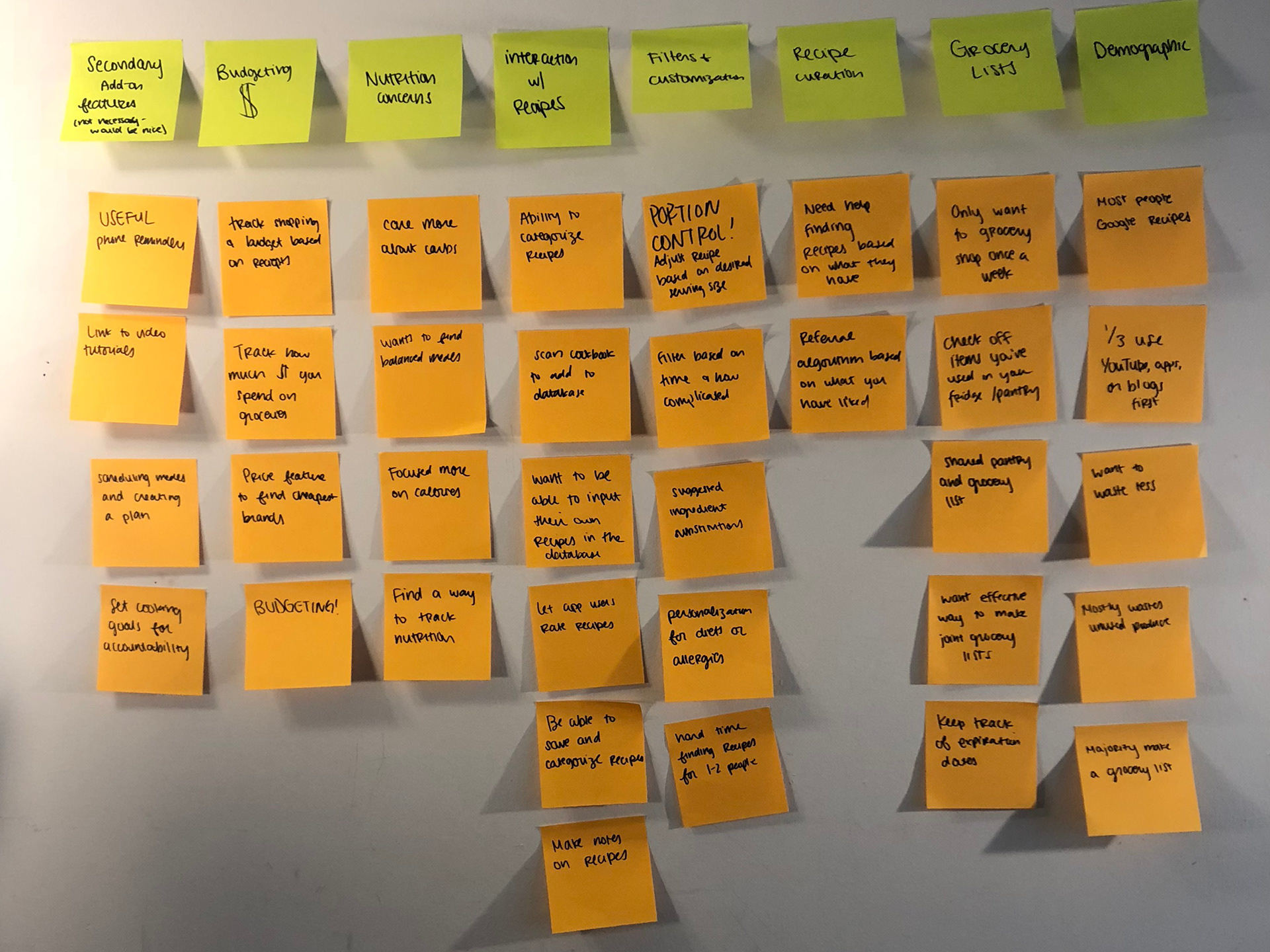 Research Summary
Overall, my research affirmed that my target demographic—college students and young working professionals between the ages of 20-30—is enthusiastic about the concept of Pantry Raid. 184 people answered the survey. Most people cook only several times a week (38.6%), with about half of the responders only cooking once a week, once a day, and rarely. Most people used Google search to find recipes, with many commenting that Google search, while producing many results, was inefficient and cumbersome in the process of finding the perfect recipe. 
People want to be able to find recipes based on current ingredients and then save the recipes, with the ability to categorize them into separate lists, similar to how Pinterest boards work. There are a few apps that already do this, but Pantry Raid will differentiate itself by having a budgeting feature that users can enable to help estimate how much their grocery list will cost and also filter out recipes based on estimated cost.
Overall, Pantry Raid will cater to its target by offering a quick and easy solution to wasted groceries, tight food budgets, and the solving the lack of knowing where to begin with healthy cooking.
Minimum Viable Product (MVP Features):
Recipe Saving
Recipe Finder
Grocery List Making
Grocery Budgeting
Secondary Features:
Nutrition Tracker
(paired with MyFitnessPal)
Goal Setter
(as a sub-feature in Budgeting)
Recipe Scheduling
Portion Editing/Customization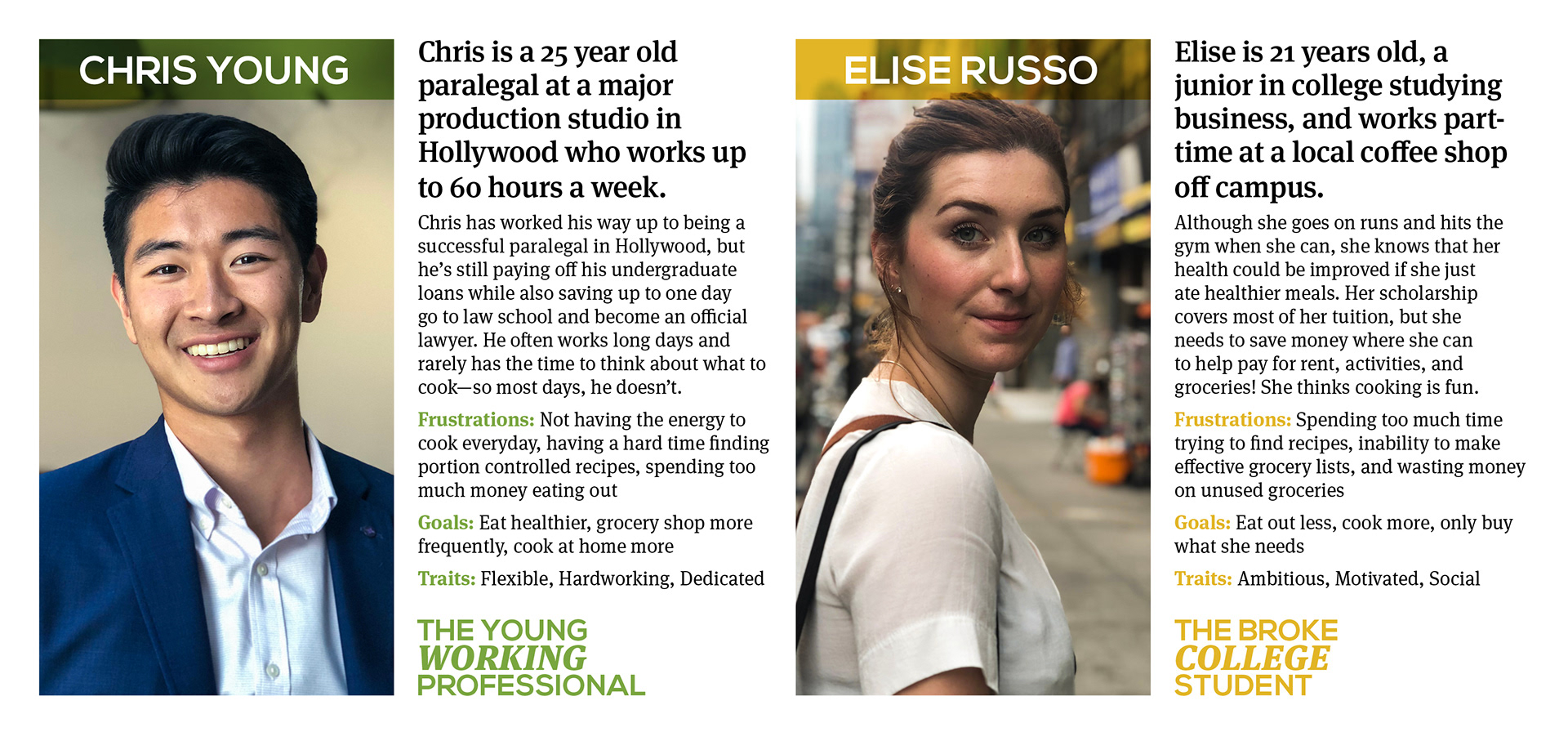 User Goals from Personas
1. Save money on wasted groceries.
2. Easily find healthy recipes.
3. Feel confident making a recipe.
4. Feel focused without unnecessary distractions.
5. Live a healthier, more nutritious lifestyle.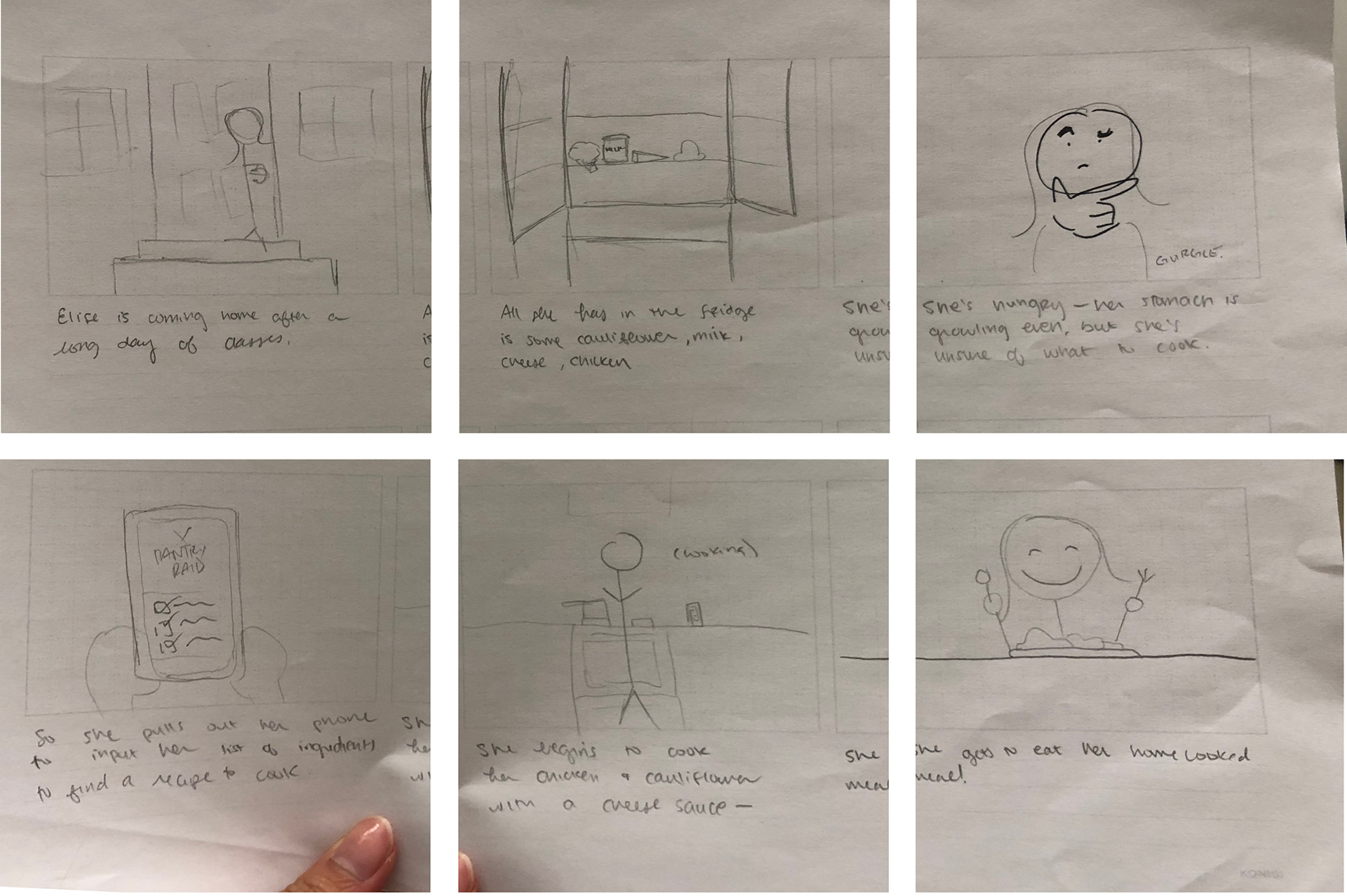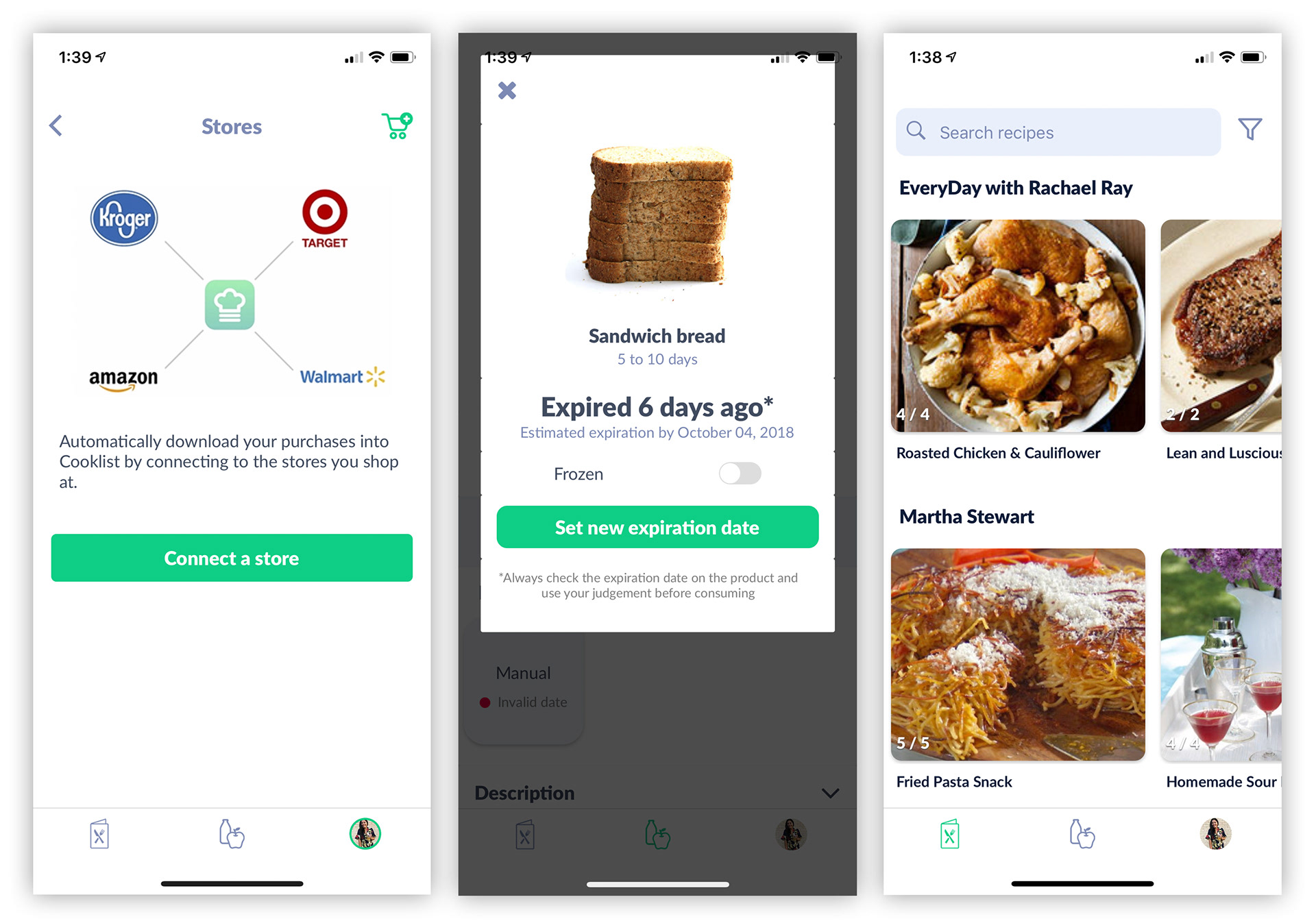 Cooklist
"Cooklist shows you recipes you can cook with the groceries in your home. It connects to your grocery store loyalty card and automatically adds your purchases to a digital pantry in the app." —Cooklist website

PROS:
-Automatically updates your pantry after purchase
-Makes estimated expiration dates
-Has feed of recipes you can cook now
CONS:
-You must shop from one of the partnered stores in order for it to work
-You must also have a rewards card or credit card with each specific store
FEATURES:
-Recipe Finder
-Pantry
-Shopping List
Chefling
"Welcome a smarter cooking experience with Chefling UltraConnect™. With the ability to identify and coordinate appropriate appliances and settings for any recipe, Chefling's UltraConnect™ technology bridges the gap between recipes and smart kitchen appliances. With UltraConnect™, every recipe is smarter." —Chefling website

PROS:
-Allows you to control smart appliances from one app
-Syncs your shopping list in real-time with family members to manage your shopping

CONS:
-Recipes aren't shown natively in the app and instead link to external sites that may not be available 
-With it geared towards smart kitchens, it isn't functional for a majority of people
FEATURES:
-Recipe Finder
-Pantry
-Shopping List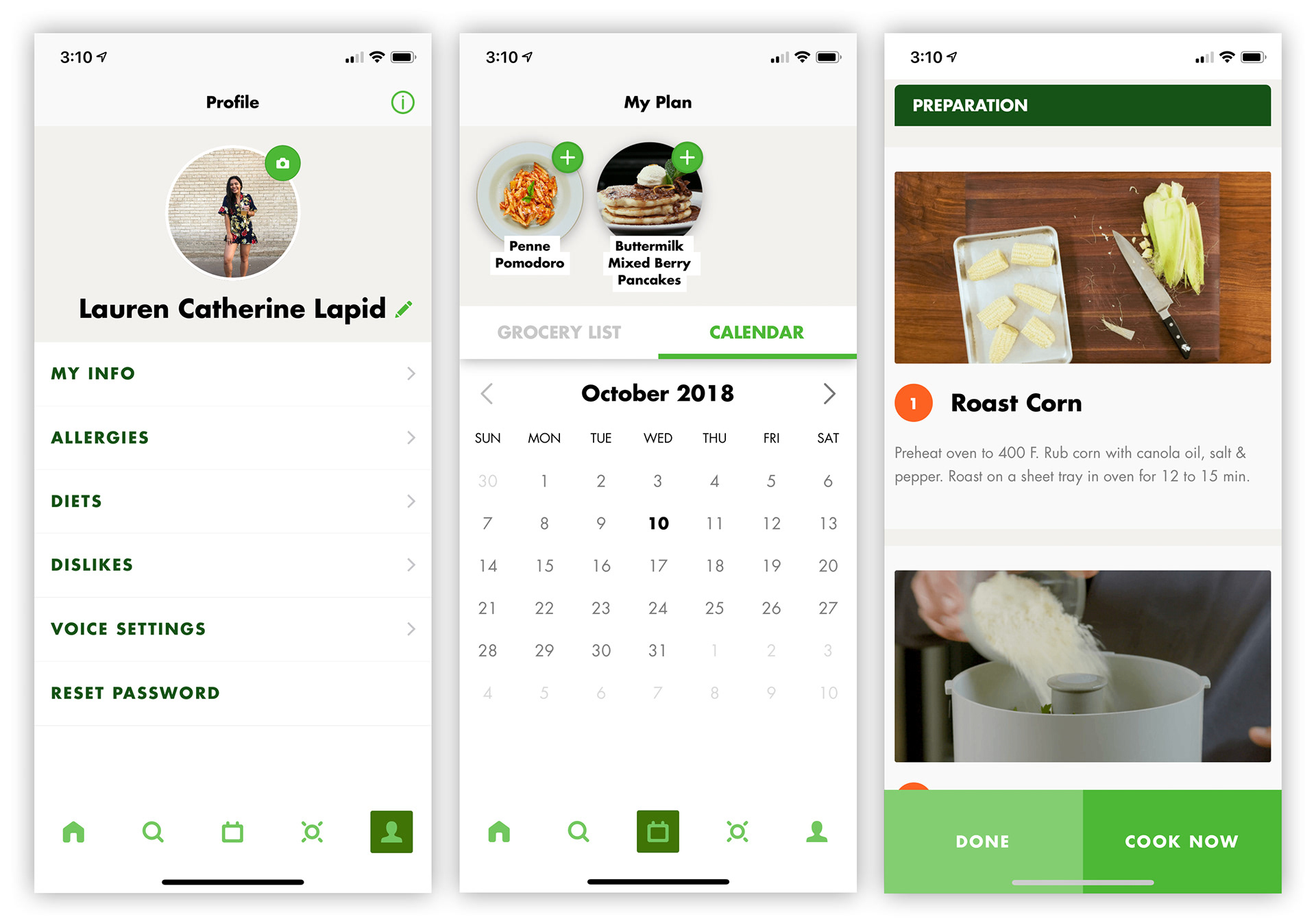 Innit
"Innit makes home cooking more accessible by recommending delicious personalized meals for you and your family based on diet, allergies, and dislikes. Innit is a culinary GPS. How-to videos and real-time cooking guidance update with every personalization you make." —Innit's website
PROS:
-Allows ingredient substitution for more personalization
-Adds recipe ingredients to grocery list
-Video tutorials to help the less experienced
CONS:
-Recipes are native to the app, so there aren't a lot of options
-The calendar function doesn't actually work or let you schedule anything
FEATURES:
-Smart appliance integration
-Grocery list
-Recipe Scheduling

Pantry Raid: Meals From Pantry to Plate.
Your friendly and light-hearted kitchen assistant.
Pantry Raid knows its supporting busy people who need encouragement and support regarding their dietary and nutritional needs—without beating around the bush. Content should be phrased playfully. It shouldn't feel too formal, and any technical cooking terms should have a description. The app is meant to teach, so content shouldn't be too technical or intimidating.
Reminders
"Heads up! Your milk is about to expire. How about some simple milk and cookies?
Recipe Starting Screen
"Let's get cooking! Here's your ingredient list."
Error
"Uh oh! Looks like we need clean-up on Aisle 3."
Find Recipes
"Help me eat tonight!"
Save Recipes
"Make it again!"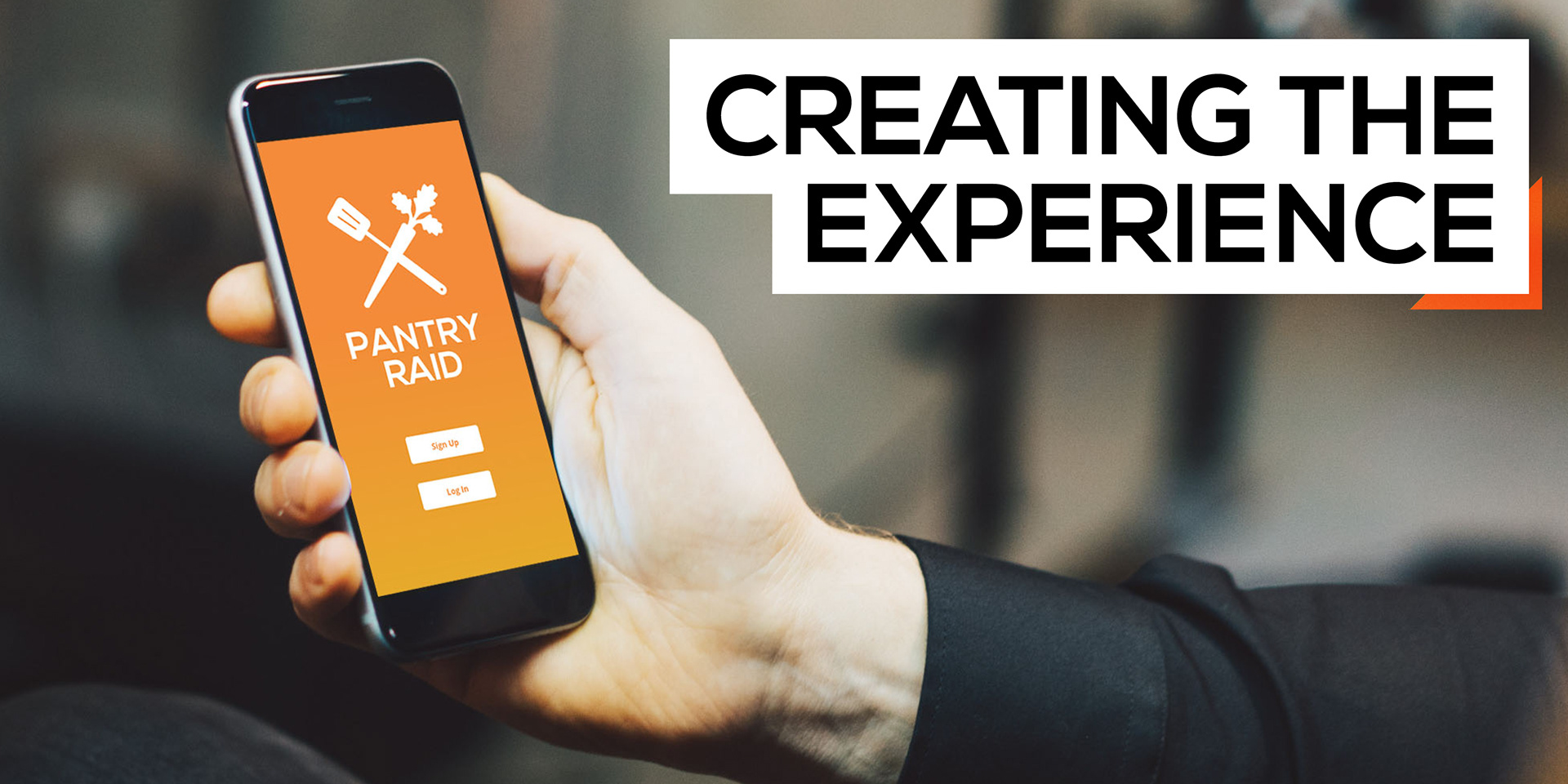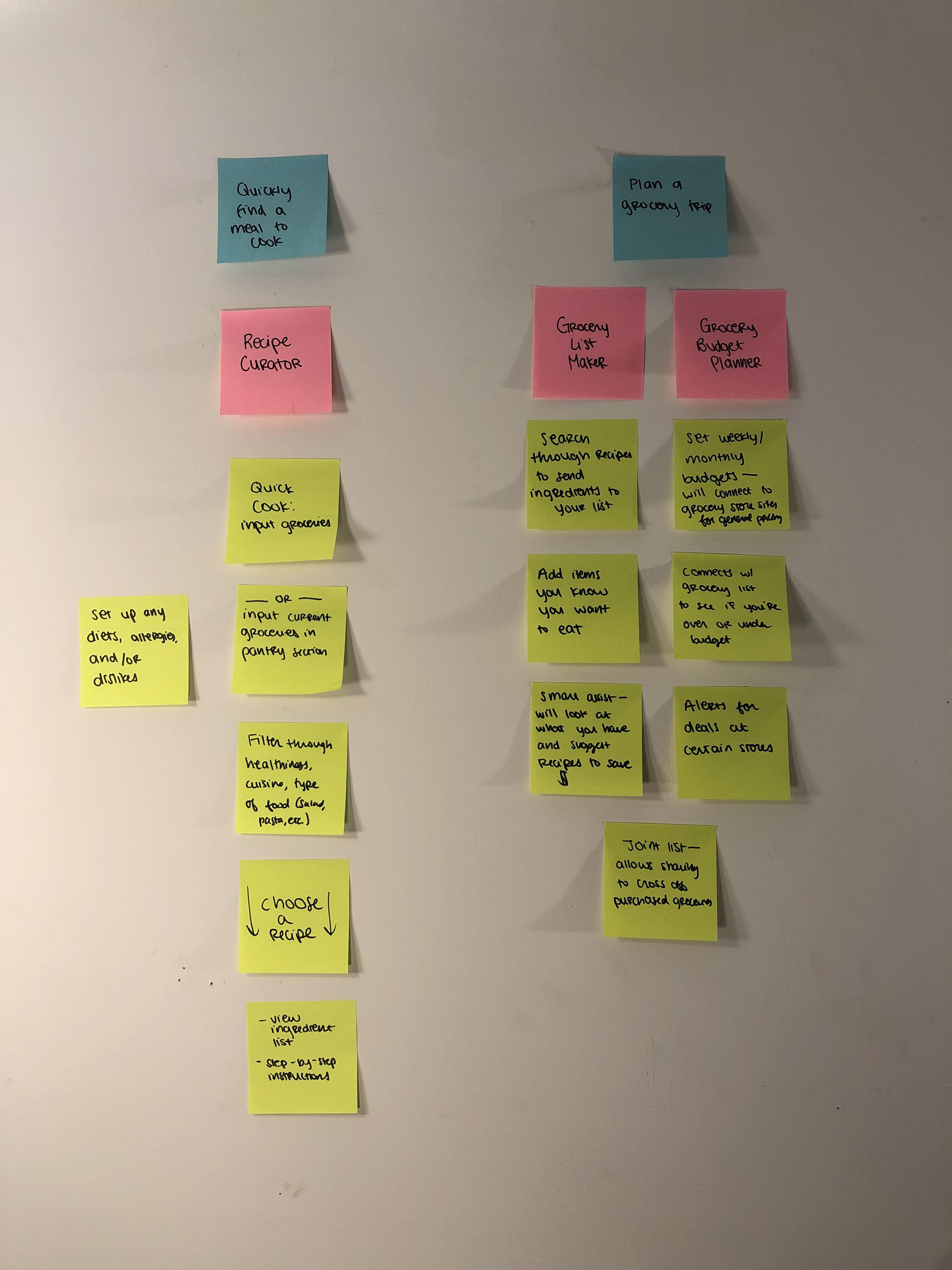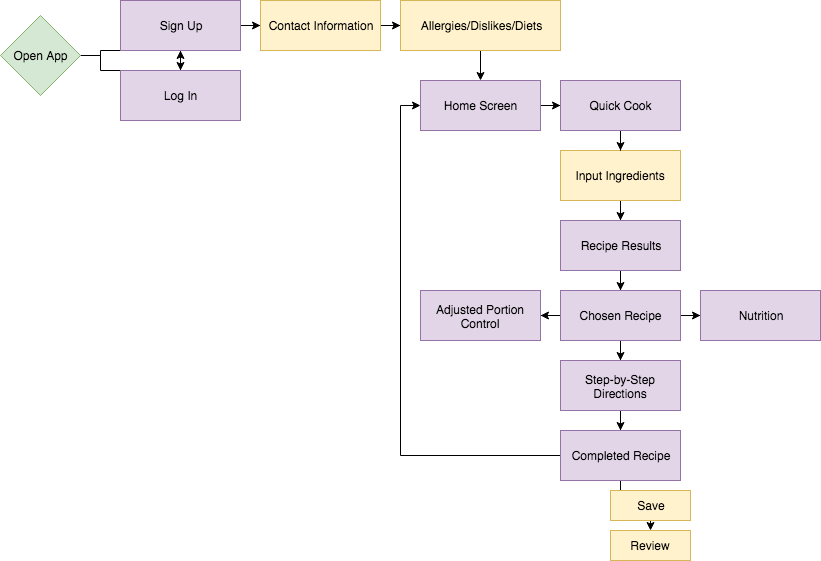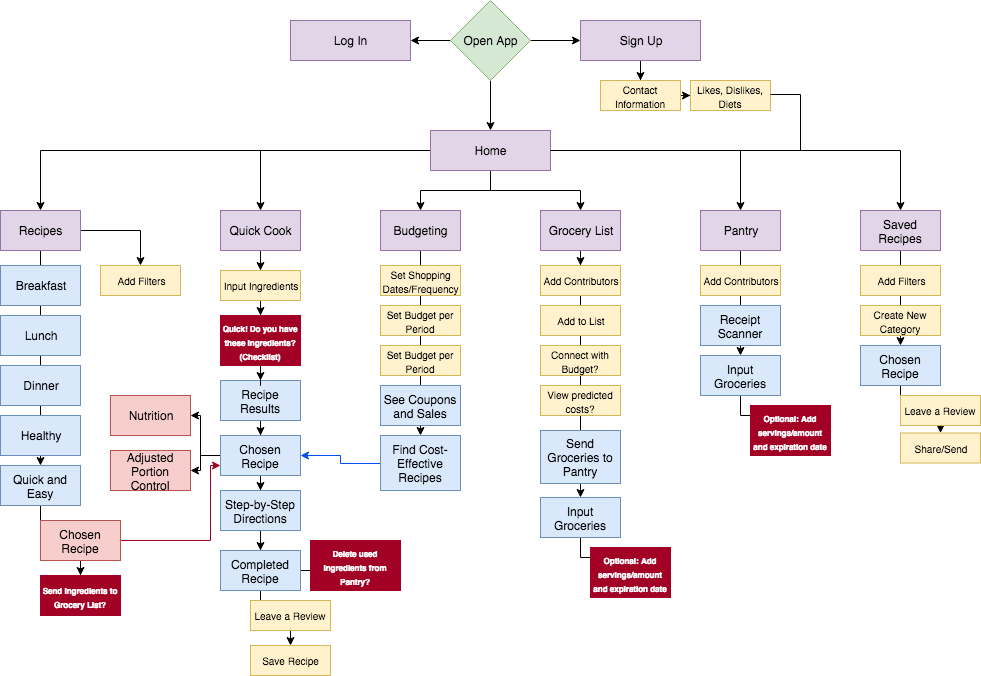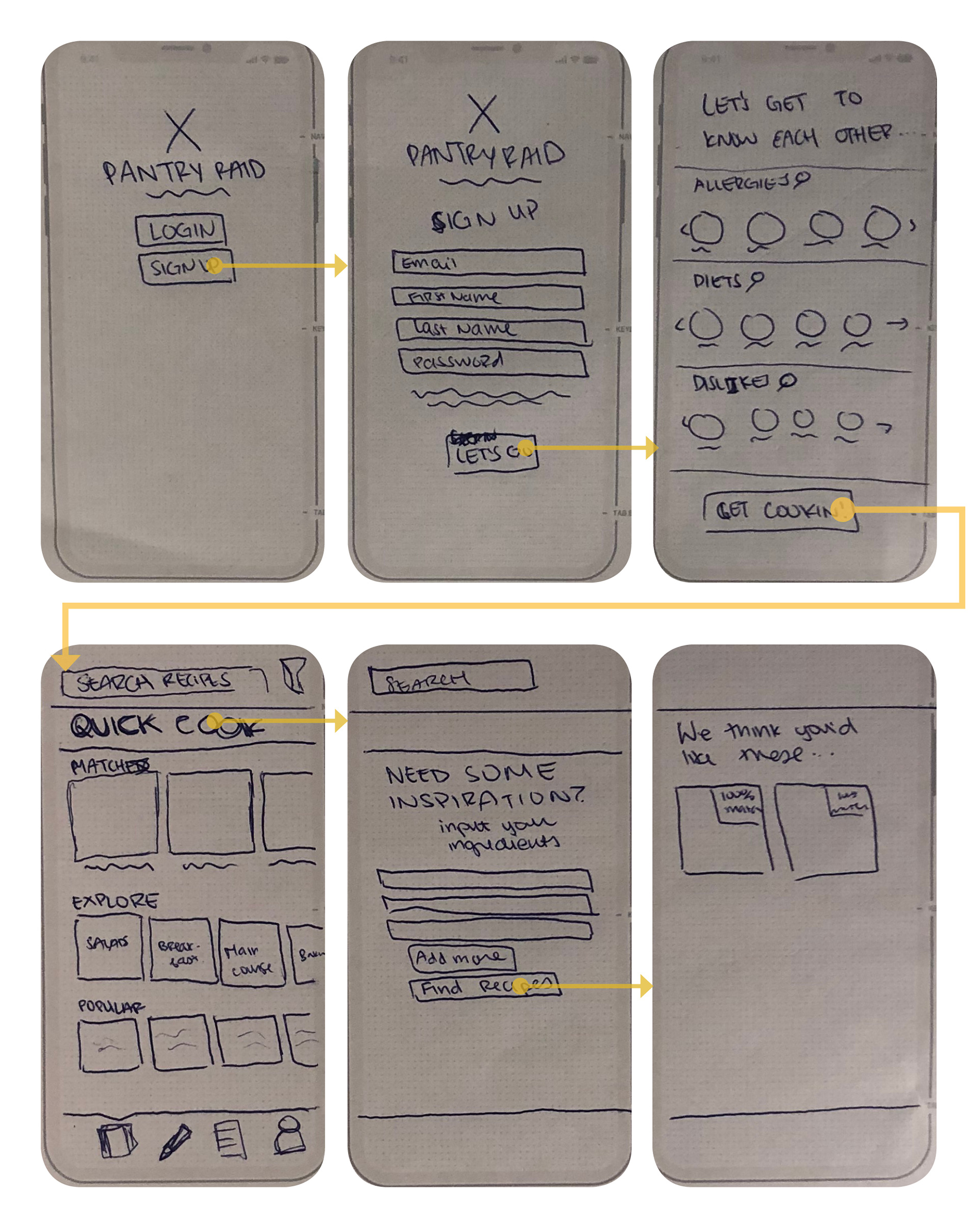 Low-Fidelity Testing
Notes: 5 users tested this low-fidelity prototype, and all said the "Quick Cook" section needs to be larger, with a description as well. In regards to the preferences screen (shown third), although the horizontal scroll seemed like an interesting design decision, users said a list format would probably be the easiest to use.